Spivo 360
The Only Swivel Selfie Stick
Exclusively available here at Spivo.com
Capture every angle for amazing adventure memories with the patented Spivo® swivel button.
$59.99 USD
Trip Guarantee - Receive by with UPS
1 Year Warranty
Easy Returns
5 Star Support
Swivel your camera and capture every epic moment
Adventurers creating their best memories
"You can get two perspectives in one video, which is perfect for when I only have one moment to capture it." - @TaylorSudermann

"I could capture myself and immediately capture whalesharks up close!" - @Maxdoutlife

"The content and creativity you can get out of the Spivo 360 is absolutely endless!" - @JessBowenn
Share your story with confidence
Mount any camera
All GoPro cameras
GoPro mount included
Spivo 360 specs
| | |
| --- | --- |
| INCLUDED | 1x Spivo 360 + 1x Mount and Screw for GoPro |
| WATERPROOF | Up to 200 feet - Salt water friendly |
| LENGTH | 20" long - the perfect travel size |
| WEIGHT | 160g (0 lbs 5.6 oz) |
| WARRANTY | 1 year warranty |
Your adventures are waiting
Customer Reviews
Customer Reviews
Write a Review
Ask a Question
Filter Reviews:
Spivo
GoPro
videos
scuba diving
water
charm
quality
stick
trip
Works
29 March 2022
Michael

United States
Awesome
Ive received my Spivo, and i am so grateful and exited to use it. The quality of the product is awesome and the function is so smooth. Thanks again.
17 January 2022
Jacques

United States
Hands down the Best GoPro Stick out there!!
I've had many different types of GoPro sticks over the years and this is hands down my favorite. I use it snowboarding , swimming with sharks, safaris, any type of action! The click and switch is so fast and just works great all the time! Make sure you add the floaty if your going in the ocean.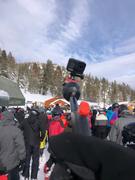 12 September 2021
G

United States
My second Spivo
This is my second one cause my first one finally broke. Don't get me wrong thought. The product is very durable and I really enjoyed my first one. Unfortunately after 2 years of gruesome beating snowboarding, snorkeling and hiking, it finally snapped when my friend crashed on a black diamond slope while shredding. Would definitely get me another one in a couple of years. I only wished there was a slightly longer version in the works for full-body shots? =)
18 August 2021
Joseph H.

United States
AWESOME Product!
The Spivo is a GREAT product! It is very well made and easy to use! Making GREAT memories of our family using the Spivo with my GoPro!!
31 July 2021
Onelia

United States
I love
They are a great company
14 July 2021
Normand V.

Canada
Great pole
WoW amazing product I'm happy whit it. Solid quality and good mechanism
26 June 2021
TERRY L.

United States
I'm very impressed with the spivo360 and all the attachments.
very good
26 April 2021
R. G.

United States
I like it.
I took it diving with me and it worked like a charm. It is lite weight and spins like it's supposed to. Angle is a bit off but go slow and it won't do a double flip.
Hi Ronaldo, thanks for leaving your review! if the angle is a bit off, you can easily adjust it using these instructions: https://www.spivo.com/blogs/news-updates/spivo-360-getting-started-guide#mounting
18 April 2021
Neftali

United States
Pure Excellence
The Spivo was the greatest purchase I have ever made! It was so easy to use and it did everything everything that I wanted to avoid doing with the go pro. If you are traveling or hiking, trust me you'll want to buy it.
09 March 2021
william S.

United States
First time
Overall experience was good. It was light and easy to use. Need for me to better understand how to tilt the GOPRO at the right angle for best results. My only complaint is I wish it was quieter when swiveling. I will figure some sound to edit my videos with when I swivel.
Hi William, this starting guide should help you with getting the best camera angle(s) and it has some extra helpful tips and tricks: https://www.spivo.com/blogs/news-updates/spivo-360-getting-started-guide